Wednesdays 6:30 to 7:30 in fellowship area during the school year
Confirmation is made up of students in 7th and 8th grade and consist of 2 years of classes. Students are confirmed in June.
*Confirmation is when a student affirms Christian belief and is admitted as a full member of the church.
(Please contact Pastor Jerry if you would like to enroll your student)
Class of 2018 was confirmed on June 3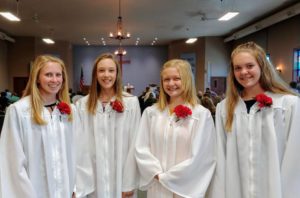 Congrats Hannah, Ellie, Nichole, and Caitlyn!